Exile in the UK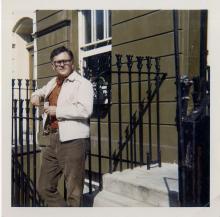 This period includes all the material relating to Ruth's time in the UK between 1964 and 1977-8, including her teaching materials and her published books. You can follow the links below to browse the material, or look at the clusters of material around the books and teaching here:
Teaching material coming soon.
Type
Title
Other item
RF/2/21/10: Answers to questions submitted by Ruth First to Colonel Muammar Gaddafi, Tripoli, Friday 2 July 1971


A document with typewritten anwers to questions that Ruth First submitted to Gaddafi in July 1971, with annotations and notes.

Other item
The Barrel of a Gun: Political Power in Africa and the Coup d'État


In this powerful and concentrated exam­ ination of army interventions in African politics, Ruth First produces a general theory of power for independent states which goes a long way towards explain

Other item
RF/2/21/9: Letter to Odeh Aburdene, Tufts University


A letter from Ruth First to Odeh Aburdene at Tufts University, requesting his research on oil in Libya.

Other item
RF/2/21/9: Letter to Neil Middleton, Penguin Books


A letter from Ruth First to Neil Middleton at Penguin books, confirming the outline and structure of Libya: the Elusive Revolution.

Other item
Libya: The Elusive Revolution


'By God I am confused'. exclaimed Colonel Gadafi at one Libyan popular conference. Where Libya is concerned, who isn't?

Other item
RF/2/21/2: The structure of the Arab Socialist Union in Libya


A diagram of the structure of the ASU in Libya, with Ruth's translation and annotation on the rear.

Other item
RF/2/21/7: Poster of the Libyan Revolutionary Command Council


Poster showing the Revolutionary Command Council of Libya, with annotations.

Other item
RF/2/21/1: "The Story of The Libyan Revolution As Told by Col. Muammar Gaddafi, Chairman of The R.C.C."


Two similar transcripts of Gaddafi's account of preparations for the coup, from Archives of the Directorate of Broadcasting, Directorate General of National Guidance, Tripoli, Libyan Arab Repu

Other item
RF/2/21/15: Libya material


A list of material for research into Libya, with annotations.

Other item
RF/2/21/5: Map of Libyan administrative areas


A map of Libyan administrative areas, with annotaions and glossary.
Pages